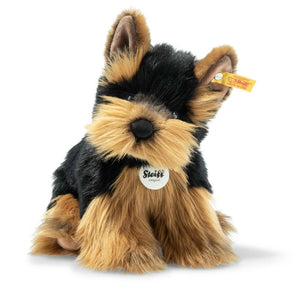 Herkules Yorkshire Terrier Brown/Black
Herkules the Yorkshire Terrier plush makes it easy to see why this is one of America's most popular breeds. With their looks that resemble a teddy bear, terriers like these easily capture anyone's heart. Herkules has the signature silky black and golden coat the breed is known for along with a playful expression and adorable, perky ears. Designed by skilled Steiff artisans, this plush Yorkie puppy is softly stuffed, delightfully floppy, and irresistibly snuggly.
The Herkules stuffed animal Yorkshire Terrier is handmade from superior quality materials. The soft and cuddly plush material is machine washable, which makes it easy to clean and freshen up when necessary. This Steiff Yorkie dog also comes with the famous stainless steel "Button in Ear" trademark to show that it is a premium plush toy from the brand that pioneered soft toys in 1880.
Product Details:
Collection: Children's Plush
Material: Made of cuddly soft plush
Size: 9 inches
Color: Brown/Black
Eyes: With safety eyes
Ear Tag: With stainless steel "Button in Ear"
Pose: Sitting
Sound Device: None
Care: Machine washable at 86°F
Country of Manufacture: Tunisia
---
We Also Recommend