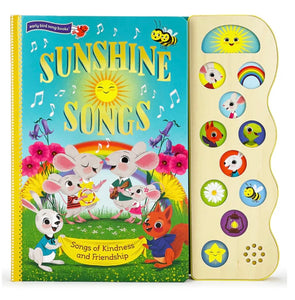 Sing a Song of Sunshine
Sing along to ten sweet, sunshiny songs with Sunshine Mouse and friends! Toddlers and preschoolers will love boppin' to the beat of friendship and kindness themed songs including Make New Friends, Bicycle Built for Two, The More We Get Together, Brighten the Corner Where You Are, Sing a Song of Sunshine, Be Kind to Your Family and Friends, Be My Little Baby Bumble Bee, If You're Sunny and You Know It, Will You Be My Sunshine?, and Let's be a Rainbow. Sing, dance, and meet adorable new animal friends on every page by pushing the button and following along for a fun sensory experience designed to entertain, strengthen fine motor skills, and encourage musical expression. A lively, playful sound book that celebrates love, kindness, and friendship.
Please note that audio buttons play melodies only, without a singing voice
Collect the entire Early Bird Song Book series!
Companion book to bestselling keepsake board book, Will You Be My Sunshine
Singing is learning! Singing develops listening and memory skills important to early literacy
Toddlers and preschoolers will enjoy pressing the buttons for an interactive experience that helps strengthen fine-motor skills
Inspires musical expression and encourages movement with rhythm
Introduces little ones to early social-emotional learning concepts and touches on themes of empathy, kindness, love, and friendship
Makes a great gift for any occasion: birthdays, holidays, and more!