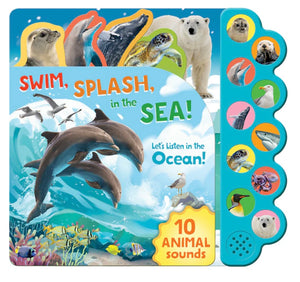 Swim, Splash,in the Sea!
Explore the fascinating wildlife that call the oceantheir home! From arctic polar bears and puffins to sea otters and dolphins, this lively, interactive sound book covers seabirds, mammals, and fish. Meet marine life on every page by pushing the corresponding sea animal sound buttons and following along for a fun sensory experience designed to entertain, strengthen fine motor skills, and foster a love and respect for sea life. Big, sturdy pages are perfect for active children and a fun book for the whole family to enjoy. An educational marine life sound book packed with fun facts and sea animal sounds! A must for little marine life enthusiasts!
Discover more song and sound books or add to your family's collection of board books with more from Cottage Door Press!
Sturdy board pages allow little boy's and girl's exploring hands to play and read over and over again
10 sea animal sounds including sharks, whales, sea turtles, dolphins, penguins, and other marine life
Illustrations with vibrant coloring and shaped cutouts of baby animals to turn the page make this interactive book come to life and help keep any toddler or baby engaged
Several icons on each page correspond with the buttons, providing an opportunity for boys and girls to practice matching and fine motor skills
Babies and toddlers will love exploring and reading this book over and over again
---
We Also Recommend