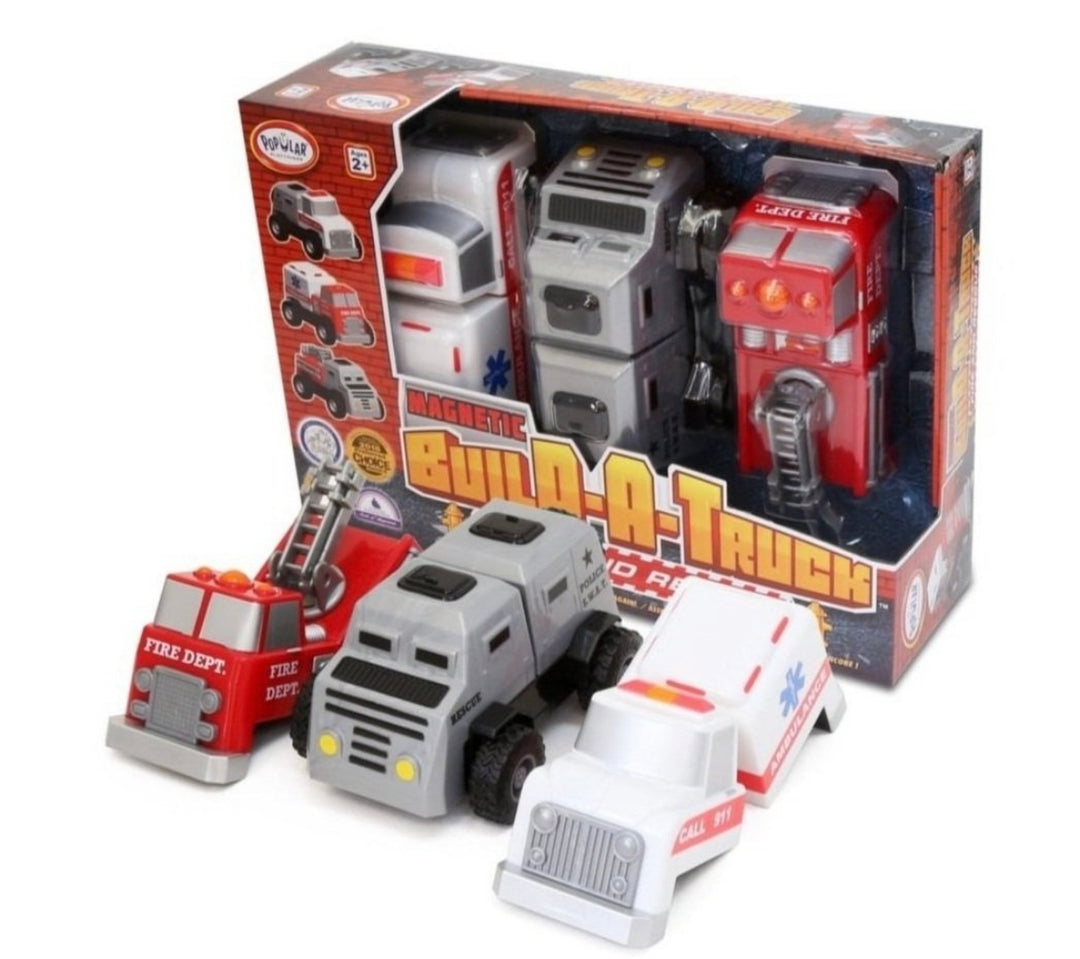 Magnetic Build A Truck Rescue
This eye-catching, rugged, oversized truck is designed with the youngest builder in mind. The magnetic locking system makes assembly a snap! Create a rescue truck with the toughest job in mind, utilizing the chassis with rubber wheels and snap in the parts you need. Choose from ambulance, a fire truck, and a S.W.A.T vehicle. Great for play indoors or outside.
Creative Magnetic Play:
These award-winning vehicle sets quickly become a child's favorite toy!
There are hundreds of vehicle combinations in each 3-piece, 3-vehicle set. All the sets in the series
are interchangeable, expanding the build options. Hours upon hours of smiles and creative play
won't scratch the surface of all vehicles that can be built! 
Imaginative Play:
Create the vehicle of your dreams with the amazing toy that lets you imagine all the possibilities.
Have you ever wanted to combine the most fun parts from different vehicles together to create the nearly impossible?
Fun and Easy to Create:
Our magnetic locking system makes assembly a snap and easily allows you to put your vehicles together
and take them apart again and again.
Build Trucks that You've Never Seen Before:
Mix up all the pieces from this set to create multi-functional truck. you can build a truck you've never seen before!

Popular Playthings:
Our aim is to create educational toys that are beneficial and fun for children.
Our toys promote playful experimentation to foster an early love of learning.
Mix or Match Vehicle Development Attributes
Fine Motor Development
Critical Thinking Skills
Visual Discrimination
Exploratory Play
Communication & Social Skills
Following Directions
Vocabulary & Language Development
Creative Play
Physical Science
Construction Play
---