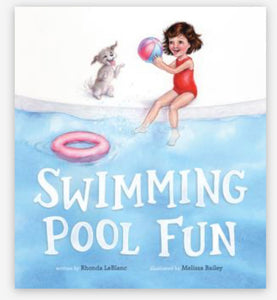 Swimming Pool Fun
A young swimmer learns to share in LeBlanc's debut picture book with illustrations by Bailey.
Mimi wants to go swimming with her dog, Milo, but, alas, the pool is too crowded; five of her friends are already in it, so she hatches a plan to get everyone out. First, she offers her pals icy, sweet treats, which two accept; she then convinces another kid to "abandon her ship" (an inflatable raft) by distracting her with giant bubbles. Finally, Mimi offers the last two children fish-shaped kites. Mimi and Milo are soon alone in the water: "Hip, hip, hooray! My awesome plans worked." But after a while, Mimi misses her friends and lures them all back with promises of new, fun activities. LeBlanc employs first-person, rhyming couplets in a carefully cadenced structure. At times, they effectively capture the rhythms of youngsters having fun, but their rigidity means that the kids' emotions don't always come across clearly and relatably. However, Bailey's illustrations, breezily rendered in watercolors and delicate colored pencil, are joyful and energetic—awash in pleasing blues and detailed water splashes. Indeed, the images make the pool itself into as much of a character in story as any of the children.
A well-illustrated tale about sharing, hampered by uneven prose.
---
We Also Recommend